Regular price
$35.99 USD
Sale price
$24.99 USD
Unit price
per
Sale
Sold out
MadamGlow skin lightening serum for black skin works very fast in lightening dark spots and  hyperpigmentation on your skin. It effectives lightens age spot on the face and body. May be used alone or mixed with Madamglow maxitone lotion for faster effect.  This skin lightening serum lightens your skin quickly without any adverse effect.
Dermatologists recommend skin care products should have humectants, the most important hydrating ingredients in skincare. MadamGlow skin lightening serum for black skin is highly rich in humectants providing your skin with required hydration through out the night.
Skincare problems such as acne inflammation dark spots blemishes and other undesired skin discolorations are seamlessly tackled. It helps you achieve the skin you thought you could only dream of. 
The serum corrects perfects and boosts skin radiance.
Face Serum:
May be applied directly on cleansed face or mixed with a face moisturizer of choice. The resulting effect on facial use is a brighter clarified healthy glowing skin. It gives the skin a luminous glow.
Suitable for those interested in achieving a smooth flawless glowing even skin tone. Rich in antioxidants it effectively tackles acne inflammation fades blackheads acne blemishes. Gentle on skin it keeps skin hydrated moisturized all night while revealing a rejuvenating glow in the morning. The Intense lightening serum acts as a skin conditioner thereby keeping skin healthy radiant soft beautiful. 
Acne Treatment Serum:
Madamglow serum for acne helps people with severe mild or hormonal  acne breakout  because of it's anti-inflammatory properties. This serum instantly stops further acne breakouts and starts to fade existing scars and blemishes while preventing formation of new ones. 
If you are suffering from acne, try our maxitone serum for clear skin.
Looking for a moisturizing hydrating night time serum:
Our intense lightening serum is high is humectants and emollients which are essential properties in skincare products when serum is applied at night it hydrates and moisturizes by morning skin feels soft refreshed ready to fight environmental radicals during the day.

Need a lightening serum:
Contains dermatologists recommended ingredient for skin lightening. A safe skin lightening factor which inhibits melanin production whether you are just looking to safely lighten up or need treatment product for hyperpigmentation hormonal disorder Madamglow serum will lighten your skin without bleaching neither will it give any reaction such as green veins thin skin instead it will repair any reaction you may have from other harsh products.
This serum is so good on skin it will make you forget your skin care concerns in a very short amount of time.
Pregnant or Nursing Mother:
Try our Elite Naturals brightening serum formulated with all natural ingredients of plant and fruit extracts.
#lighteningserum #hyperpigmentationtreatment.
 All skin types
Potent lightening serum
Fade undesired hyperpigmentation
Restore even skin tone

Promote healthy-looking skin
For best results, use the product at night time.



Ingredients:
Propylene Glycol, Aqua, Quinol, Parfum, Benzyl Alcohol, Hydroxycitronellal, Caramel, Hexyl Cinnamal, Butylphenyl Methylpropional, Citronellol, Hydroxyisohexyl 3-Cyclohexene Carboxaldehyde, Linalool, Methylchloroisothiazolinone, Amyl Cinnamal, Isoeugenol, Methylisothiazolinone.
Share
View full details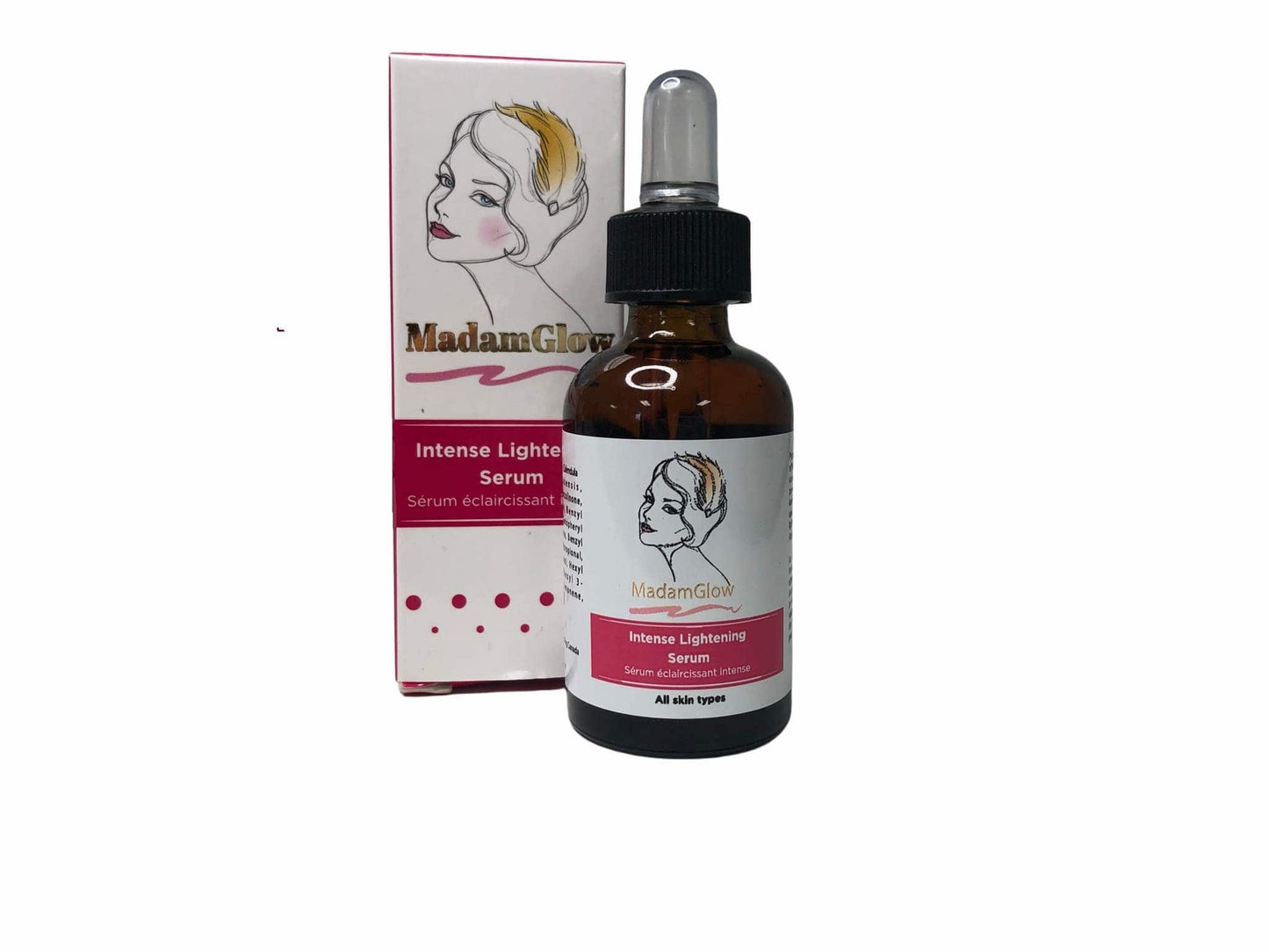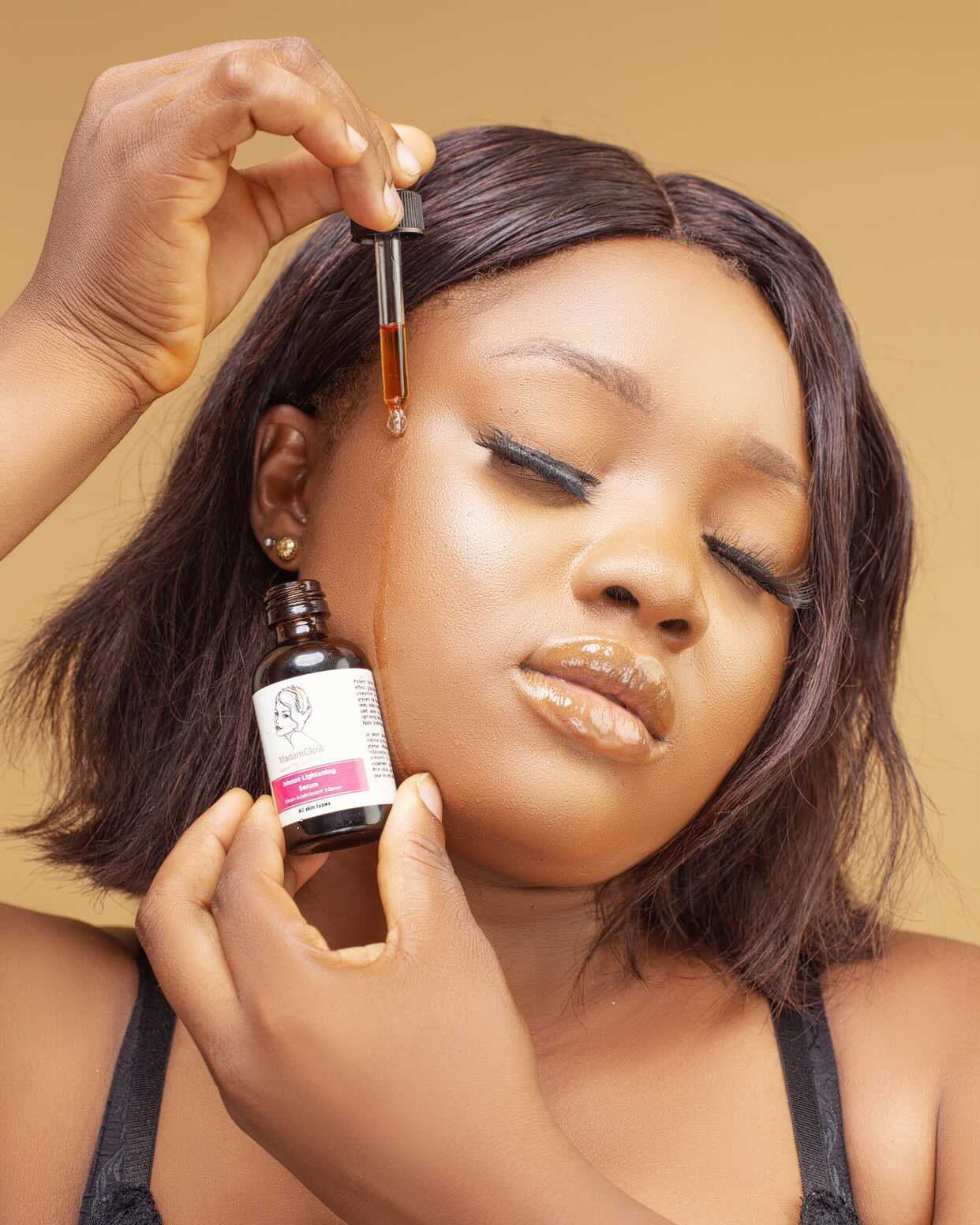 How often should someone with sensitive skin exfoliate ?