Regular price
$22.99 USD
Sale price
$14.99 USD
Unit price
per
Sale
Sold out
Elite naturals exfoliating soap is a natural bar soap with skin polishing properties suitable for black skin desiring healthy looking skin. A good hyperpigmentation soap for black skin it stops acne inflammation with visible result after first use. 
Clarifying soap for treatment of acne scars, skin brightening, glowing skin Elite Naturals exfoliating soap is your one stop for a perfect healthy skin. 
An exfoliating soap for men and women, luxurious bar soap for face and body formulated with natural plant extracts it does not cause irritation. Because of it's unique exfoliating components it makes your other skincare products work more effectively. 
Regardless of your skin condition and concern Elite Naturals soap will transform your skin to a healthy glowing radiant skin.
Benefits 
Exfoliation is an important part of a good skincare routine, it removes dead skin cells, unclog pores, and improve the overall look and feel of skin. Elite Naturals soap is different from a regular soap or cleanser because it contains natural exfoliating agents extracted from wheat bran it helps to gently scrub away dead skin cells and bacteria from the epidermis.
This unique natural antibacterial soap alleviates acne inflammation eczema body odor redness and many other  skin inflammatory conditions. It also helps to make skin more receptive to moisturizers and other skin care products. 

In addition to unclogging pores, elite naturals soap can help to reduce the appearance of wrinkles and fine lines. By removing dead skin cells, it makes skin look smoother and younger. It can also help to even out skin tone and reduce the appearance of age spots.



Acne Treatment and Blackheads

This exfoliating soap is a big hit for acne treatment whether you are battling mild or severe acne Elite Naturals exfoliating soap effectively starts to reduce acne breakout within 24hours and fully eliminates breakouts with consistent use it helps to improve skin texture by removing the layer of dirt, oil, and other debris that can accumulate on the surface of the skin. This layer of debris can cause skin to appear dull and can clog pores, leading to acne and other skin problems. By gently scrubbing away the dirt and debris, exfoliating soap helps to unclog pores and give skin a more youthful, healthy glow.
When exfoliating blackheads, it's important to rub gently using circular motion to massage the soap into the skin and avoid scrubbing too hard, as this can cause damage. You should also only use it a few times per week, as over-exfoliation can cause the skin to become dry and irritated.


Best Soap For Body Odor  

Whether you have postpastum body odor, pregnancy body odor, hormonal imbalance body odor you can eliminate your body odor by inculcating this exfoliating soap in your skincare regimen. It's antimicrobial properties and ability to remove dead skin cells make it a perfect treatment. It's an exfoliant that will leave your skin clean without causing irritation or being too harsh. 
Vagina Exfoliation
The presence of Triticum Vulgare Bran an anti-inflammatory agent used to treat vagina yeast infections as a major part of the ingredients makes it gentle enough to use in the bikini line area, it may be used before and after a vagina shave. Using clean hands, lather your soap and  gently massage the vulva area for a few seconds, rinse off and pat dry.

Face and Body Exfoliation
Gentle enough to use as a facial exfoliant it instantly gives facial skin a radiance. It targets both face and body acne, eczema, stretchmarks and other inflammatory conditions it improves skin texture and clarity making it soft and beautiful.

Lightening Soap for Black Skin
This is a natural exfoliating bar soap that will help you get the best out of your skincare products especially skin lightening products. It is important to exfoliate regularly without being excessive. Elite naturals soap is an effective soap that promotes healthy results for skin brightening. It opens up your pores allowing your other products to penetrate faster to produce desired result. Best thing about the soap is it instantly brightens skin from the very first use.  Suitable for those with sun damage, sunburn, melasma, exogenous ochronosis, pregnancy discoloration.

Flaky Skin
If battling flaky or dry skin use this natural exfoliating bar soap as recommended, be sure to follow up with a deeply moisturizing lotion.

Dark knuckles

Do you have dark knuckles you want to get rid of, you can easily achieve fast result by using Elite Naturals soap. All you need do is wash your knuckles with this gentle soap twice a week not more. Do not use any tool as your hands are your best tool, with clean hands lather soap and gently massage affected area. Rinse off and moisturize with Elite Naturals lotion. Your dark knuckles and burnt feet will fade away to reveal a healthy looking skin.

Ingredients:

Sodium Palmate, Sodium Palm Kernelate, Aqua, Glycerin, Parfum, Palm Kernel Acid, Triticum Vulgare Bran, Citric Acid, Sodium Chloride, Benzyl Benzoate, Butylphenylmethylpropional, Coumarin, Isoeugenol, Limonene, Tetrasodium Edta, Tetrasodium Etidronate, Ci 77492
Share
View full details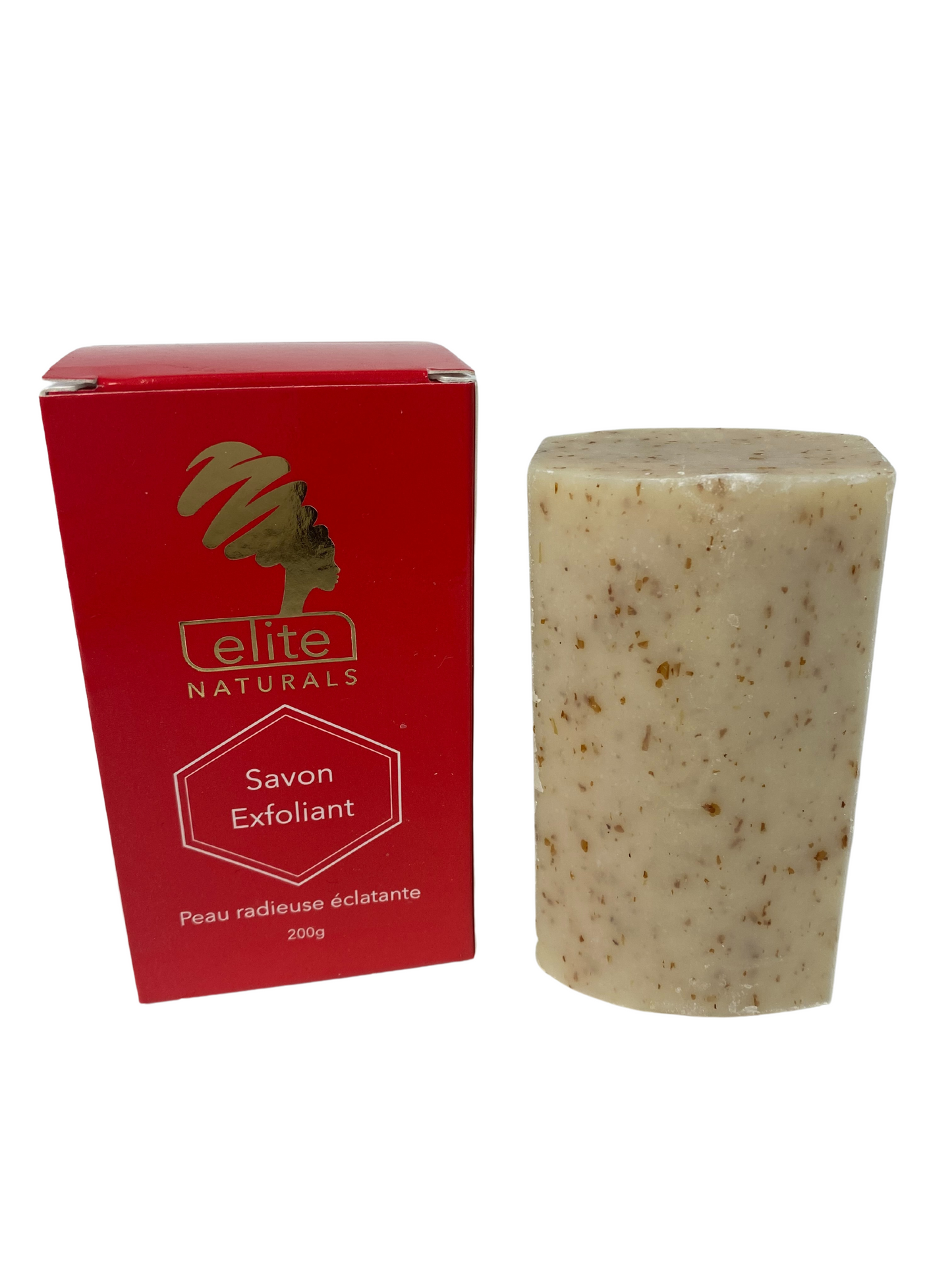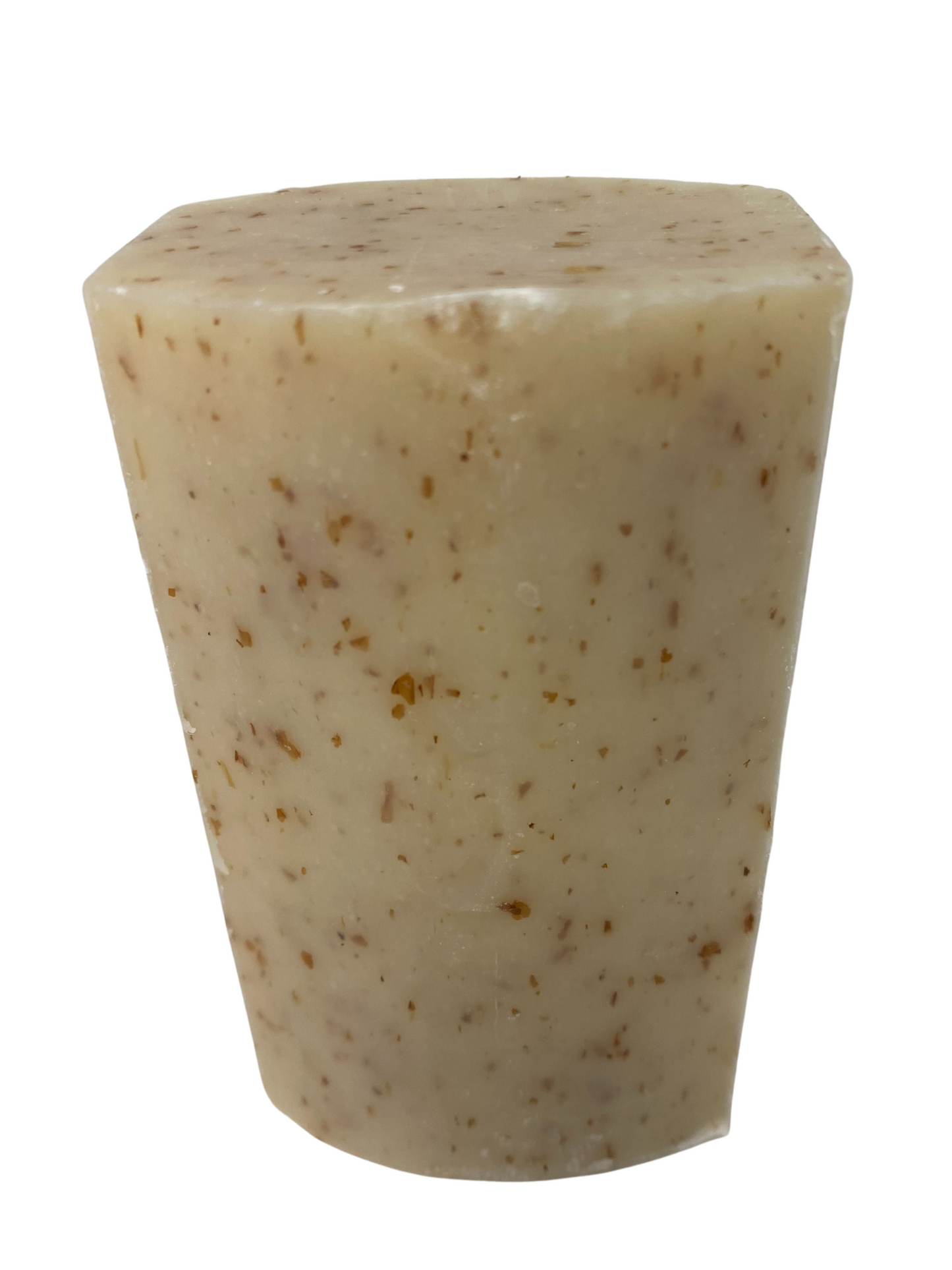 How often should someone with sensitive skin exfoliate ?